Chef's Table at Mimo, London.
A typical Jamaican meal has a heavy serving of starch. This could be rice, yam, dumplings, green bananas, breadfruit or any combination of the aforesaid. The protein may be a small piece of chicken, beef, pork or fish. All served with plenty of gravy. Most Jamaicans would pour scorn on fine dining portions. It's just ridiculous. They would ask "where is the food?" The custom has created a precedent.
The best part of the whole meal is really the gravy. There is nothing quite like a nice slab of dry yellow yam dipped in beef stew gravy. The thing is just heavenly. All the flavours seem trapped in that juicy stuff. In earlier years people really had a small piece of meat with loads of gravy. Our people really couldn't afford to purchase much meat. The next best thing was to make a pot of sauce with bits of meat.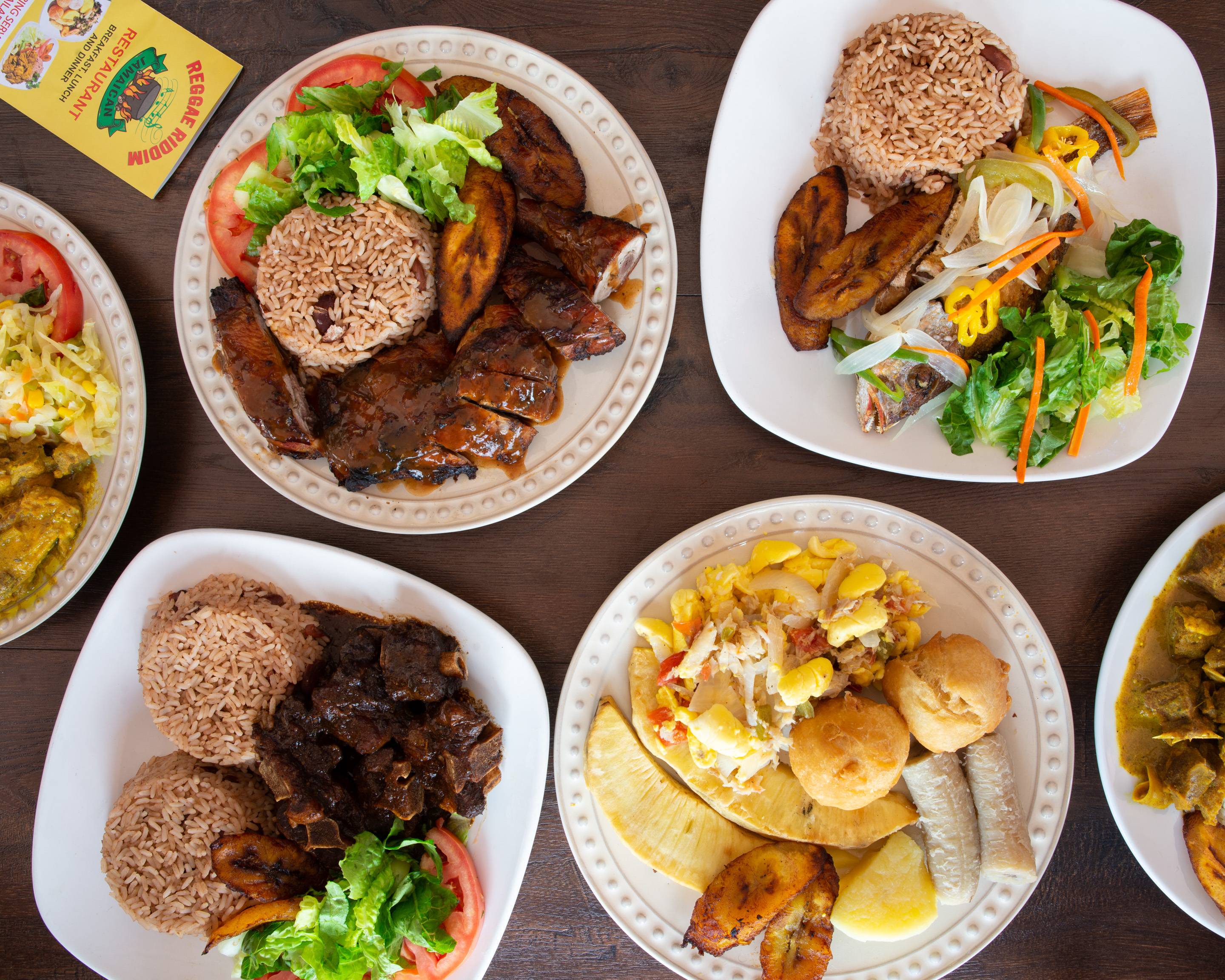 Jamaican Dishes
Truth be told, you only need a small piece of meat. Older Jamaicans referred to this as "salt ting." Long before we had cold storage and refrigerators, our people cured meat in order to preserve it. They would then cut off small pieces and make a stew to have with rice or yam or dumplings. The real magic is in the gravy. All those herbs and spices released unbelievable flavour that gets dissolved in juices from the meat. Bland food gets dipped or covered in this rich sauce, making a most delightful meal.
I had the pleasure of enjoying a tasting menu at
Mimo
and it was a mouth-watering experience. (Pun intended.) Mimo could be described as a small cooking school and/or restaurant located in the food haven of
Borough Market
, London. It's not possible to share just a menu, select a gastronomic feature and have an unforgettable adventure.
Beef Sirloin, Coconut & Pink Peppercorn Sauce, Grilled Tender Stem Broccoli, Pickled Chilli Dressing
As a Jamaican, the first thing that jumped out at me was the size of the portions. It did say a tasting menu. These dishes were really just that, a taste. Still a lot to learn on my culinary journey. What's so remarkable about the food, even though it was small, I wasn't hungry at the end. Why? From start to finish, every single crevice of my tongue was tantalised with flavours. No particular taste bud was left untouched. Sometimes less is indeed more.
Rhubarb & Custard Tart, Rhubarb Gel, Vanilla Ice Cream
You get lost in a cacophony of aromas, flavours and textures. Who knew rhubarb could taste so good? One thing is clear, if the entire taste palate is engaged, you do not need a large serving. I suppose what we're really yearning for is more flavour. If we can have rice and gravy, no meat necessary, it confirms my theory.
Next time you prepare a meal, try to make it as flavourful as possible. Get fresh herbs and the accompanying spices. Marinate where necessary. Not sure what to mix with what? There's a wonderful book I recently received as a gift from my wife.
The Flavour Thesaurus
is presents information about spices and flavours as well as suggestions for recipes. Beautifully worded, it reads like a story book about flavours.
While we self-isolate, you might as well cook. What else is there to do?
Be safe out there.