As a 30 year-old, fresh out of graduate school, I have a peculiar wish list. For starters, I'd like to get a car, then a house, get married and have two kids, own a dog and have a bike. That is not necessarily the order in which I'd like to have them. In any case, to acquire all of this will take some doing. It's daunting to even put a specific time limit to doing this. So, until then, there are a few other things that have made it to my wish list especially seeing the holiday is nigh.
1. A Check Suit


Having donned grey, charcoal, black, navy blue and tan suits, the next logical progression should be a checkered suit. This Sienna grey is right up that alley. 
2.Chinos
It seems I'm slowly being weaned off denim pants but chinos are just lighter and classy. They come in various colours unlike denim. Close fitting chinos are a better fit with a better feel than close fitting denims. Not throwing out my denims though, but certainly increasing my quota of chinos.
3. Coloured Socks
For the days when I feel funky! A few more brightly coloured socks would certainly help. I am becoming known for these so it's about time I increase my stock.
OTAA

: Navy Blue Knitted Tie with White Polka Dots

Now, it's about time I change the appearance of my neck-ware. Nothing would more suit me than a few knitted ties. This offers not just a difference in patterns but also fabric type.


5. Shoes
Zappos
: Massimo Matteo Double Monk Strap $169.0
The gentleman's shoe collection needs to have a double monk strap brogue. My dad got me hooked on brown shoes and that liking has never left me. This will always be one of my quirks. Brown shoes are bit ordinary though unlike the next suggestion.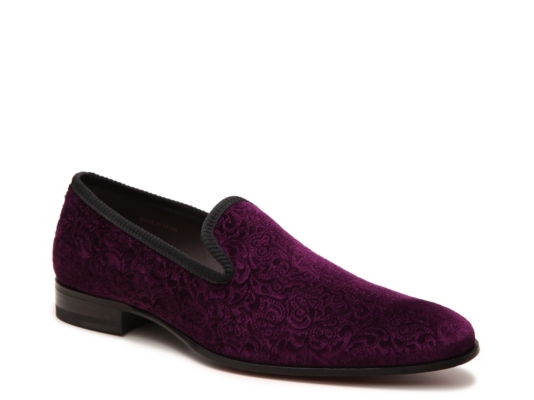 DSW
: Mezlan Dresden Loafer
A purple, suede loafer is just what I need to welcome in the new year. Light weight and stylish is definitely the way to go. Giving the shine shoes a break. 
Then I saw this burgundy loafer and immediately was convinced that this is a must have. So, to the top of the wish list was made this entry.
6. Cologne
One of the favorite men's fragrance for 2015:
Spicebomb by Victor Wolf
Listed by Brostrick as one of the best colognes for men this winter, the Spicebomb is one I would like to try. In doing research for the perfume blog I got an opportunity to greatly increase my knowledge about colognes.  
7. Cookbook

It is no secret that I love cooking and I definitely prefer healthy food. What better way to immerse myself into cooking than learning from the masters of the art (technically, it's a science) – the Italians. La Cucina comes highly recommended with over 900 pages containing some 2000 recipes. There's a heavy focus on cooking by regions and as such there are recipes coming from various parts of Italy. Let the cooking begin…
8. A Gadget
While I refuse to become a cyborg I might as well make use of the Internet of Things. Upon consulting my tech friend Steven, I was informed about a wireless keyboard that should certainly be on my wishlist. It's the VK200 Keyfob Virtual Laser Keyboard by CTX Technologies. Imagine having a keyboard projected onto any opaque surface. You can take it with you without any inconvenience.
Now, for a quick commercial video about the product.

My biggest challenge with all of this is the fact that I'm so indecisive. I take forever and a day to make up my mind on what to get. On account of that, I'll add another gadget to my wish list.
Turn your phone into a "PC"
What's the catch? You need a Windows phone, specifically a Lumia 950 or 950 XL. The Display Dock for Continuum allows your phone to operate like a PC. Add a monitor, a mouse, an external keyboard and you basically have a PC. This certainly reduces the need for a laptop.  For those instances when you need to write a long email or make a Powerpoint presentation. The beauty about this is that that phone can still be used to make calls and send messages like normal. Quite a catch. I'm a fan.

That's it for my wishlist at the moment. I encourage you all to find some less fortunate persons who you can assist and share a gift with them. Stay off the booze and drive carefully.
Happy Holidays from The Essentials.
Do you, because 'style is personal.'